2017 was another year of growth for hip hop music. Despite on-going concerns about the death of lyricism and traditional structures, I continue to believe that the new generation of artists has recently found its footing; and are now making some of the most exciting music we've heard in years. They're playing with the aesthetic, upending delivery styles and stretching the genre in ways we never thought possible. It was a difficult task, but below is a list of my favorite albums of the year.
Enjoy!
There are few platitudes left that have not been said about Kendrick Lamar. At this point he's MJ circa 1993, a virtuoso at the top of his game. All that's left to do is to listen and enjoy greatness in its prime. His trio of consecutive studio albums,
Good Kid, M.A.A. D. City,
To Pimp A Butterfly
and now
Damn
are on the short list of greatest hat tricks of all time. And to me
Damn
is his finest. It's like Kendrick heard the doubters saying his albums were too challenging, too dense, too serious and said "oh really?" before going into the studio to craft
Damn
.
He emerged with a taut collection of 13 tracks that were tighter, more accessible, more user-friendly and yet somehow, no less intricate.
Like with previous records,
Damn
reveals its genius only upon repeated listens; with each spin offering new elements to admire. Do your best to keep up with the rapid fire
DNA
, nod along to
Loyalty
or listen with baited breath for the plot twist on
Duckworth
, either way you'll be blown away.
2. JAY-Z – 4:44 (June 30th)
How does a 47 year old rapper sound relevant in the age of Trap Music dominance? How does he respond to a very public dressing down by one of the most beloved feminine icons in the world? In Jay-Z's case, by killing off his past persona, resisting the temptation to rely on his trademark braggadocio, baring his soul and simply coming clean.
On
4:44
Jay gives a master class on the subtle art of grown folks' hip hop. It's laced with wisdom, perspective, and black joy, but also melancholy, regret and all manner of hard-won life lessons. The beautiful production work from No I.D. (the project's unsung hero) with expertly curated samples and sumptuous instrumentation, bathes the entire album in a rich, soulful grace.
In the now unmatched cannon of Jay-Z's body of work,
4:44
may not be his best album, but it's certainly his most essential.
3. RAPSODY – LAILA'S WISDOM (September 22nd)
Here's one thing that should be clear by now...Rapsody's got BARS. The 34 year old NC native runs circles around your average hard rock, whether true school wannabe or mumble rap motor mouth. Metaphors, punch lines, slick cultural references and a healthy dose of Black Girl Magic are all in abundance on Laila's Wisdom, as evidenced by the soaring title track, a slow-building, soul-stirring tribute to her late grandmother. "I'm the better version of what you think and used to call talent / I've been banking, check my balance" she spits mid-way through and you can't help but agree. But Laila's Wisdom is not just about clever wordplay. With warm, earthy production (mostly from long-time collaborator 9th Wonder), the album comes off as a cohesive, uplifting package that owes as much to Lauryn Hill as it does to Black Thought (who show's up on Nobody for a scene-stealing cameo). It's always great to see an underappreciated artist come into her own, and that's just what we witness with Rapsody on Laila's Wisdom.
4.

TYLER THE CREATOR – FLOWER BOY (July 21st)
Even when we think we are prepared for his curve balls, Tyler The Creator still has a knack for defying expectations. And Flower Boy may be his most brilliant fake out yet. Musically, it's an eclectic platter of captivating arrangements, stacked with lush strings, inventive samples and swelling chords. But it's Tyler's lyrics – raw, vulnerable, revealing and less sarcastic than his acerbic previous efforts - that gives the album its surprising depth. At 26 years old, having spent some time in the spotlight and become one of the most respected voices of his generation, Tyler's already starting to sound like an elder statesman. But rather than coming off as burdened by the weight of stardom, Tyler simply sounds more mature and confident. He's a man in full control of his art...and that's no joke.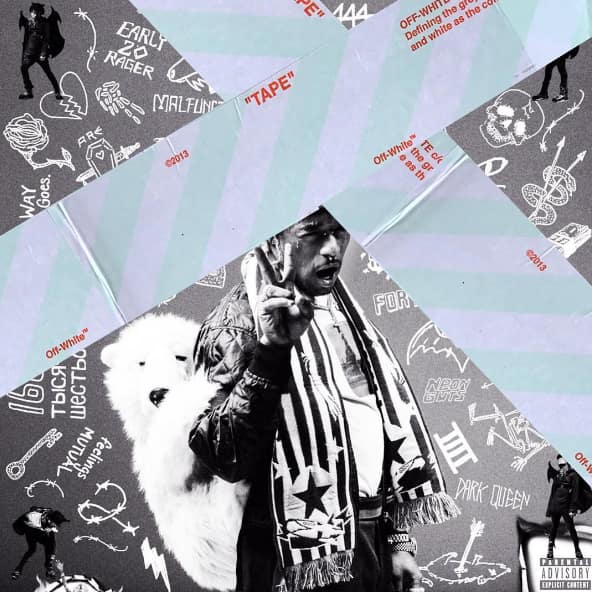 5. LIL UZI VERT – LUV IS RAGE 2 (August 25th)
If you are a man of a certain age (like myself), the only way to appreciate Lil Uzi Vert is to shut off that part of your brain that clings to the formal definition of hip hop music. Once you do so, you'll find there is a lot to appreciate about the genre-bending rock star and his unlikely rise to the top of the rap game. If you're going to dive in, there's no better place to start than with Luv Is Rage 2, a sprawling, auto-tuned, digital delight of an album. XO Tour Lif3 is the natural entry point, a street punk anthem with a sticky chorus that masks the song's bleak outlook. From there, sample the irresistible Sauce It Up, the ex-girl lament The Way Life Goes or the trippy, Pharrell-assisted Neon Guts. By then you should be ready to take on some of the album's less accessible tracks. Soon after you'll find your self humming For Real and Feelings Mutual around town, much to the dismay of your out of touch Gen X counterparts.
6. DRAKE – MORE LIFE (March 18th)
Say what you want about Drake, but you can't deny the simple fact that dude is the most reliable hit maker in hip hop music today. Try to resist the Travis Scott and Quavo collab Portland, the liquid smooth Passion Fruit, or the incandescent Fake Love all you want. But, as the saying goes, the neck don't lie. A chameleon if I ever saw one, the 22 tracks on More Life run the gamut from classic R&B, to house music, to Caribbean, dancehall and straight-up battle rap. The funny thing is, I'm no longer surprised that he makes it all work for him.
7. MIGOS – CULTURE (January 27th)
Culture is not much more than a flex album for Migos. A middle finger to their haters and a curtain call for their legions of fans. Already winning at life (and having way more fun than the rest of us), the Atlanta trio now serves as trap music's reigning champs. The poster children for demise of lyricism and the leading source of inspiration for a generation of imitators. I'm not going to try to pretend that I can get into much of what these guys are rapping about (or even that I can tell them apart). But what Migos lack in nuance, variety and lyrical complexity, they more than make up for with unforgettable hooks, nimble phraseology and thundering bass lines. Bad and Boujee, (immortalized at the Golden Globe Awards by the great Donald Glover) is their obvious moonshot. But you should blast T-Shirt, Slippery or Get Right Witcha (very very loudly) in your car if you want to experience your very own "oh, I get it now" Migos moment.
8.

AMINE – GOOD FOR YOU (JULY 28TH)
I think it's fair to say that Amine's brightly lit debut album matches Chance The Rapper's Coloring book stride for stride in bubbly cheerfulness. And last summer Good For You was just that, a welcome respite from 2017's relentlessly dreadful mood. Although like Chance, Amine also morphs seamlessly between rapping and singing, the comparisons end there. His lyrics are more straight-forward and his sound does not lean into gospel underpinnings. His tracks are bouncy and whip smart, with charming, playful rhymes built around relatable themes. As for idols, Amine's got his sights set on a higher target (he's referred to himself "Andre's prodigy"). He's got his work cut out for him if he want to rise to those heights, but with Good For You, he's off to a great start.
9. FUTURE - HNDRXX (February 24th)
If awards were given for ubiquity, Future would be Man of the Year by a wide margin. Hndrxx, released just 2 weeks after his self-titled 5th studio album, arrived with high expectations after he promised it would be "something special". While not consistent top to bottom (and containing nothing to match the world-beating Mask Off), there certainly was enough there to make sure he did not disappoint. Incredible is piece of pure pop gold. Coming Out Strong (ft. The Weekend) is as plush as you would expect and Looking Exotic showcases Future's uncanny gift for melodic swagger. Moody, somber, and filled with all kinds of ex-girl trauma (Hi Ciara), Hndrxx did more than enough to satisfy fans, counterbalance his drug-rap street anthems and proudly represent Future's crooning, lover man alter-ego.
10. CYHI THE PRYNCE – NO DOPE ON SUNDAYS (November 17th)
Just when you thought that the ATL was forever lost to the trap scene, along comes Cyhi The Prynce, a superb storyteller and wordsmith with a raspy flow who sounds like a disciple of 90s era true school hip hop. No Dope On Sundays strikes a nice balance between radio-friendly heat (Get Yo Money), gully sh*t (Murda ft. Estelle), and conscious-rap throwbacks (Nu Africa). For all of you who think true lyricism is dead, give Cyhi a spin and I promise you'll instantly feel better about the state of hip hop music.
HONORABLE MENTION
J.I.D. - The Never Story
Joey Bada$$ - All-Amerikkkan Badass
Meek Mill - Wins And Losses
Joyner Lucas - 508-507-2209
Freddie Gibbs - You Only Live Twice
Vince Staples - Big Fish Theory
Vic Mensa - The Autobiography
Smino - Blkswn
Oddisee - The Iceberg
Big K.R.I.T. - 4eva Is A Mighty Long Time